Campfire Cymru provides high quality, engaging forest school training including Forest School and Forest School Practitioner Levels 1-3, Outdoor Learning Practitioner & Coast School Practitioner training.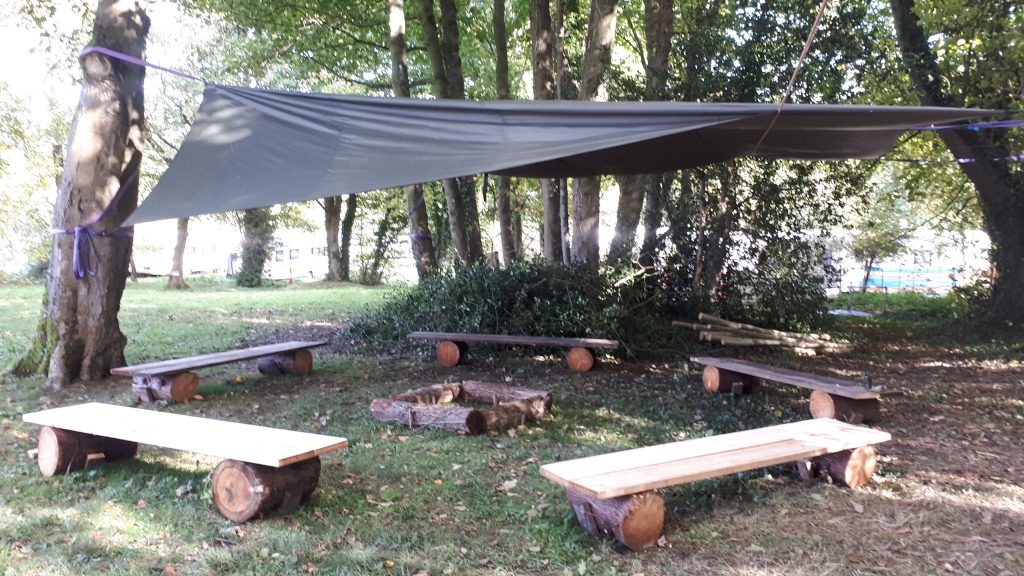 As a social enterprise, we are a sustainable and flexible organisation operating on a not-for-profit basis. This means that much of the income we derive from running forest school training courses goes towards providing funded Forest School Programmes for families and Training for parents and carers. We follow our principles of caring for the environment and helping people who need support to access education while operating a successful Forest School & Outdoor Learning training business.
Our Forest School & Outdoor Learning Training Programme, Campfire Training, offers a range of high quality, accredited Forest School Training, Outdoor Play & Learning courses. The courses are accredited by Agored Cymru (Open College Network Wales) and we are an associate trainer for Cambium Sustainable.
Courses available include: Forest School Practitioner Level 3, Forest School Assistant Level 2, Coast School Practitioner Level 3, Outdoor Learning Practitioner Level 2, Certificate in Co-ordinating an Outdoor Curriculum Level 3. We run Forest School training throughout the year and exciting new courses are being planned all the time.
To learn more about our up and coming courses and book your place please visit our courses page.
We also run CPD (Continuous Professional Development) courses for qualified Forest School Practitioners as well as those who want to try a taster of our training. Planned CPD includes: Campfire Cooking for Forest School; Next level fire-lighting skills for Forest School; Musical Forest School; Mini-makes for Forest School; Climate Change & Sustainability through Outdoor Learning; Forest School, ADHD & Autism; Engaging with families outdoors; Well-being in the Woods.
Feedback from recent training:
"Real confidence booster to learn new skills with tools and cooking that can be used with the children."
"Really enjoyed it."
"I am inspired"
"A fabulous course"
These are the principles of Forest School agreed by the Forest School Association in 2003 and they offer an ideal view of the Forest School process.
Forest School:
➔ is a long-term process of regular sessions, rather than a one-off or infrequent visits; the cycle of planning, observation, adaptation and review links each session.
➔ takes place in a woodland or natural environment to support the development of a relationship between the learner and the natural world.
➔ uses a range of learner-centred processes to create a community for being, development and learning.
➔ aims to promote the holistic development of all those involved, fostering resilient, confident, independent and creative learners.
➔ offers learners the opportunity to take supported risks appropriate to the environment and to themselves.
➔ is run by qualified Forest School practitioners who continuously maintain and develop their professional practice.

Campfire Cymru's Forest School Training programmes and Campfire Training Courses adhere to these principles. Our Forest School Practitioner training Level 3 shows you how to bring these principles into action in your own setting. We also recognise the experience and abilities participants and trainees bring with them and that there are many valuable outdoor & group experiences as well as Forest School. With this in mind, we also provide Outdoor Learning and Outdoor Play Training, both of which borrow from Forest School, but do not necessarily follow each of the Forest School principles. There is huge value in taking a class outdoors to learn about mini-beasts; to draw inspiration from nature for art or poetry; to understand maths through leaves, twigs and the rings on tree stumps; to play games or let off steam between lessons. All these are wonderful examples of outdoor learning & play as one-off sessions or sessions where a specific outcome is expected.
To inject fun and inspiration into your curriculum based outdoor learning, try our Outdoor Learning Practitioner Level 2 course. This is currently available as an online only course as well as a face-to-face course.
To learn more about our up and coming courses and book your place please visit our courses page.